FiTs key to driving solar PV installations
IMPORTANT notice about this article: Please note that the Feed-in Tariff (FiT) scheme closed to new applications on March 31st 2019.
A new report into solar panel uptake has revealed just how pivotal the Government's feed-in tariff scheme is to driving interest in solar energy and encouraging homeowners to install solar photovoltaic panels.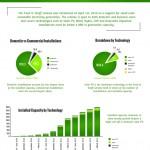 The research, carried out by GreenBusinessWatch and compiled from data courtesy of Ofgem's Renewables & CHP Register provides an insight into the Government's popular scheme and its adoption patterns, not least the impact changes in tariff levels have on renewable energy  generation.
Since the feed-in tariff was introduced back in April 2010 to pay adopters for each kWh of electricity they generate, over the last three years (up until 31st March 2013) under the scheme 379,511 installations have been registered, of which more than 366,000 were domestic installations.
As far as domestic homeowners are concerned Solar PV is by far the most popular type of renewable energy, helping households make reductions in electricity costs. Domestic installations dominate the renewable energy market, and the technology accounts for a staggering 98.55% of all installations under FiTs.
When it came to solar adoption, research identified clear peaks and troughs which correspond to feed-in tariff changes. Not surprisingly, there was a spike in adoption numbers just before tariff levels endured cuts and noticeable dips in the immediate aftermath.
When first introduced in April 2010 tariff levels stood at 43.3p/kWh. From 1 July 2013 another scheduled level of cuts will take support for solar PV down to just 14.90p/kWh.
Commenting on their FiT data analysis GreenBusinessWatch editor Alastair Kay said that despite cutting back on feed-in tariff support the reduction in installation costs over the last three years still meant that solar PV was a good investment. But getting the message through to potential customers was the current challenge facing the UK solar industry today.
"The challenge for the solar industry is to deal with this question. Is solar PV a good investment with a FIT rate of 15.44 p/kWh or 14.90 p/kWh?" said Alastair.
The FiT scheme was introduced to offer financial support for homeowners and businesses interested in installing small scale renewable energy technologies and to encourage the switch to renewable electricity generation.  Aside from solar panels eligible renewable electricity products include wind turbines, CHP and hydro.
Get free quotes for domestic solar PV installations before tariff levels drop to 14.90p/kWh next month. The quotes are free and you're under no obligation.