Durham University awarded BREEAM 'Excellent' rating for Palatine Centre
The new solar-powered university building is equipped with  solar PV and solar thermal alongside a series of other renewable technologies and was designed from the outset with sustainability in mind.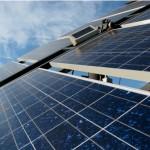 The Palatine Centre will be the new home for the university's management team as well as acting as an academic office, communications department, IT help desk and international office. As well as solar PV and solar thermal, it has a green roof covered with sedum, air source heat pumps, solar shading and rainwater harvesting.
The building's TiSUN large-scale solar thermal system covers an area of 65 m2 with the solar collectors ranging in size from four metres to six metres long. They are arranged in arrays of four to 12 metres across the roof and it has been estimated that the system as a whole will provide half the annual domestic water demand with a probable 100% supply of hot water during the summer. However, Geoff Miller, TiSUN's  UK sales director, is most excited about the data the system will provide.
"The TiSUN controller logs all data on the system and stores this data for analysis" he says. "We will be able to monitor exactly what the temperatures of the various components are, and use the data to fine-tune the system parameters. It is exciting to be involved in a project as prestigious as the Durham University Palatine Centre, as it is a serious renewable building."
According to the Vice-Chancellor, Professor Chris Higgins, the Palatine Centre is the centrepiece of the university's plan to match the building environment with what is considered to be a World Top-100 university.