Dubai to build the world's largest solar power plant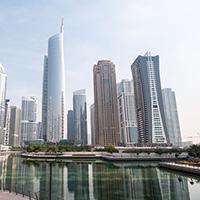 Dubai has announced plans to build a new solar power plant which will generate an enormous 1,000 megawatts by 2020 and 5,000 megawatts by 2030. This will make it the biggest in the world, overtaking the current largest which is the Ivanpah solar power plant in California.
The announcement was made on Thursday by Dubai Water and Electricity Authority (DEWA) who have said that the plant will be located within the Mohammed Bin Rashid Al Maktoum Solar Park. The plant will actually be made up 5 facilities and should be completed by 2020/ 2021 as part of the Dubai Clean Energy Strategy to generate 75 per cent of Dubai's power from clean energy by 2050.
Gulf Business reported DEWA managing director and chief executive officer Saeed Mohammed Al Tayer explaining the benefits of concentrated solar power (CSP):
"An advantage of CSP is that thermal heat, which is used to produce electricity, can be stored easily. This is makes possible to produce electricity after sunset,"
"The plant will have several thousand heliostats located around a tower which will receive the radiation reflected by the heliostats. The heat-transfer fluid is then used to power the steam turbine to generate electricity,"
Inhabitat has also quoted him saying "...we constantly work, led by the vision of our wise leadership who instructed us to prepare to bid farewell to the last drop of oil. This is based on a vision that recognizes the significance of renewable energy in achieving a balance between development and sustainability. DEWA continues building projects to achieve this vision and consolidate sustainability to ensure a brighter and happier future."