Bluesky Maps Out Solar Power Potential
The aerial mapping company 'Bluesky' has found a total of 500,000 homes suitable for solar PV panels since the innovative company's launch last year.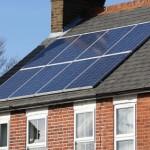 The company maps potential power generation  from solar panel installations on property roofs. It uses high resolution aerial imagery combined with 3D computer modelling in order to determine size, aspect and gradient of properties and it is fast becoming very popular with solar panel installation companies.
A national mapping project is planned for the near future as well as an 'on-demand' service offering delivery of detailed solar power sustainability reports. The technology will be particularly useful as returns from Feed-in Tariff Scheme are reduced under government deadlines.
"If tariffs are reduced it becomes more important than ever to get an accurate and independent assessment of a property's suitability in order to fully understand the balance between installation costs, energy savings and potential income," said Rachel Tidmarsh, Bluesky Managing Director.
Once the potential of a roof has been recorded, the information can be compared with other factors such as proximity of nearby trees or buildings and taking into account roof shape and obstructions such as skylights and dormer windows.