Basingstoke College to install major solar PV array
Basingstoke College is set to become one of the largest providers of solar power in Hampshire with its first installation scheduled for 2013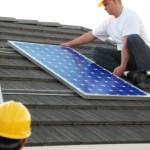 Basingstoke College of Technology (BCoT) will begin the first phase of the project in 2013 involving the installation of up to 400 solar panels on the roof of the engineering block in Worting Road. The college principal, Anthony Bravo, hopes that will more panels will follow at a later date at a cost of up to £350,000.
BCoT is working with Basingstoke Energy Services Co-operative which has offered technical advice and is hoping to make the town a centre of excellence in renewable energy.  The actual provider of the panels is yet to be decided but they are expected to produce around 85,000kW of energy over the course of a year. Excess electricity will be fed into the National Grid which will help to generate income for the college.
"It is becoming paramount that large institutions need to take responsibility and actively promote and encourage eco friendliness" said Mr Bravo. "I think it's morally right. By installing these solar panels, we are making a huge commitment to this. They will pay for themselves within eight years and have a life-span of 20-plus years. We estimate this approach will cut our bills by 50 per cent. After eight years, we will have free electricity, but all the time you have the panels, your electricity bill goes down."
It is hoped that the project will also demonstrate the college's commitment to the Green Deal which will help householders and businesses increase the energy efficiency of their properties.
"We are part of the community" Mr Bravo added,  "and think this is something we should do. I'm hoping other colleges and other schools will see the advantages of it."
Basingstoke Energy Services Co-op has just been awarded major grant funding from the Department of Energy & Climate Change (DECC) which will allow it to identify buildings in the town that could benefit from renewable energy technology, the installation of which will attract further funding from DECC. Another £200,000 could be available if suitable sites are located.