Ambulance service embraces solar energy to save lives and fuel
An ambulance service in the South East of England is turning to renewable solar energy to help power life-saving equipment in its rapid response vehicles.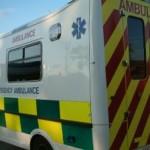 The country's first ambulance service to fit solar panels onto its emergency vehicles, South Central Ambulance Service NHS Foundation Trust initially started trialling the technology back in January 2012.
Proving successful, from September of that year all new rapid response vehicles (also known as RRVs) were fitted with solar panels. To date 36 vehicles have embraced solar power as a means of providing power for the secondary battery system which is used to power the on board emergency equipment.
Commenting on the green initiative, green team co-ordinator Brian Miller said introducing solar panels to its fleet of rapid response vehicles would bring fuel consumption and costs down, and help the trust reduce its carbon footprint. It also means that vehicles won't need to leave their engines running when their batteries need recharging, or alternatively return to base to get their vehicle batteries recharged.
South Central Ambulance Service is in the process of implementing further trials, which will see solar panels fitted onto front line double crewed ambulances. In light of the Trust needing to save £30 million over the next five years, the service is aiming to reduce its carbon dioxide emissions by 30.28 tonnes, and save more than £50,000 in fuel costs.