5 Common Solar Panel Problems Solved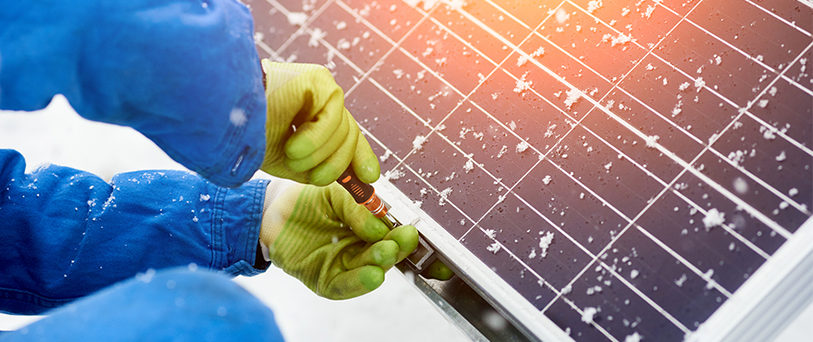 Despite the many advantages that solar panels and renewable energy can bring to your home, some people worry about potential problems or downsides before they have them installed.
Here we've listed some of the most common solar panel problems and concerns as well as how to resolve them (or avoid them altogether). In many cases, what might appear to be a solar problem might not be such a concern after all.
---
 
Get Free Solar Panel Quotes:        Get quotes and compare prices.
 
---
Solar panel problems…and how to solve them
For the most part, solar panels are very low maintenance and can be left to generate free renewable energy for your home. However, from time to time, you might encounter one of a handful of solar PV problems but they can all be resolved.
1. Solar inverter will need replacing
The solar inverter is an important part of any solar system, converting the energy produced by solar panels, direct current (DC), into alternating currency (AC), which can be used to power electronics around the home.
Solar panels can have a lifetime of up to 20 years, and will generate a lot of free energy in that time. Solar inverters, however, don't last quite so long. The average solar inverter will have a lifetime of 5-15 years, depending on the model and manufacturer. A new solar inverter can cost anywhere in the range of £500 – £2,000, so they're not cheap but, typically, the better the model, the longer it will last.
Before arranging for an engineer to repair or replace the solar inverter in your solar panel system, check the terms provided by the manufacturer to avoid the warranty becoming invalid.
2. Low efficiency rating
At first glance the efficiency rating of a solar PV system could appear low, with the majority of domestic systems in the UK reaching efficiency levels between 10-20%. However, a 4kW system is actually enough to greatly reduce energy bills and lower your carbon footprint. In fact, it's likely that much of the time you'll be generating more energy than is being used around the home, which you can store up for use at night with a solar battery. We'll go into more detail about solar batteries later in the article.
To ensure maximum efficiency of the solar panels, their position on the roof and the type of material being used should all be considered. Your installer will be able to assess and recommend the optimal position for your new solar system.
---
 
Get Free Solar Panel Quotes:        Get quotes and compare prices.
 
---
3. Birds nesting under solar panels
Solar panels on the roof make for an ideal nesting space for birds as they provide shelter and warmth. They're also perfect protection from predators and, ironically, the sun.
Your solar panels might need cleaning more often as birds are known to cover the panels in the droppings, leaving less surface area for energy generation.
Bird droppings can be periodically cleaned off but the longer it's left, green algae can form which requires professional cleaning. To prevent birds from moving into the space under your solar panels, barriers can be installed around the outside of the panels.
4. Damage to the roof
With solar panel systems being directly installed onto the roof, there can be some concerns about damage to the roof. However, arrange for the installation to be carried out by an MCS certified (or equivalent) installer and you should have nothing to worry about.
It is possible for solar panels to hide, rather than cause, certain problems on the roof such as damp, rot and deterioration. However, this can be avoided by arranging regular maintenance and monitoring of the solar panel and roof.
On the other hand, solar panels have actually been known to extend the life of a roof because they act as an extra layer of protection against the elements.
5. Initial costs
While the previous 4 solar problems occur for those who already have solar panels installed, one of the biggest problems comes right at the beginning: cost.
Fortunately for homeowners, solar panels have dropped in price by 60% compared to how much they cost back in 2010. Typically, they'll cost in the region of £6,000 – £7,000, which is still a large expense but you'll see a return on investment through energy bill savings sooner rather than later.
The total cost of the solar system being installed, will come down to the size. The bigger the system, the more electricity it will be able to generate for your home.
| | |
| --- | --- |
| Solar System Size | Average Price |
| 1kW | £1,840 |
| 2kW | £3,680 |
| 3kW | £5,520 |
| 4kW | £6,040 |
Larger homes with more people living in them will have a higher electricity demand so, as a result, will need a bigger system. As a reference point, the average 3 bedroom home will likely need a 3-4kW solar system, coming to an average total somewhere between £5,520 and £6,040.
These average costs come before the installation has been taken into account, which will add to the total amount. To help you get off to the best start in finding a qualified solar installer to fit your new solar panel system to the roof, use Solar Guide to get free installation quotes from MCS certified (or equivalent) installers in your area.
---
 
Get Free Solar Panel Quotes:        Get quotes and compare prices.
 
---
Benefits of Solar Panels
We've been through some of the potential problems facing solar panel owners, all of which we've found a solution to, but let's not forget that there are plenty of benefits to installing a solar PV system.
1. Lower electricity bills
The main reason many UK homeowners turn to solar panels is to reduce their energy bills and the impact should be seen almost straight away. As you're generating your own electricity using a free, renewable energy source, you have less reliance on your energy supplier, meaning that you have to buy less energy and, therefore, see your energy bills drop.
2. Reduced carbon footprint
As there's no need to burn fossil fuels for the panels to generate electricity and they don't emit carbon out into the atmosphere, your carbon footprint will be smaller than ever.
3. Year round energy generation
There's a common misconception that solar panels are only able to generate energy in direct sunlight, but they also work on cloudy days too – perfect for anyone living in the UK.
4: Low maintenance
We mentioned that nesting birds can potentially cause some trouble to your solar panels but that's easily resolved with a bit of fencing around the outside. Other than that, solar panels are extremely low maintenance, mainly due to the fact that they have no moving parts that can wear out over time. So you can enjoy the benefits of solar panels without having to give much thought to the panels.
5: Store excess solar energy
While solar panels can generate energy for your home all year round, that's only during the day and not at night. This could mean that as the evening rolls around, you'll have to turn to your energy supplier, however, there is a way around this.
Install a solar battery as part of your solar PV system and any excess energy generated during the day (there's likely to be a lot) will be stored for later use, namely at night. Thanks to a solar battery, the reliance on your energy supplier will drop further to help your energy bills drop even lower.
Weighing up the pros and cons of solar energy
If you're looking to embrace the benefits of solar energy, while avoiding some of the potential problems, you'll need to find a MCS certified (or equivalent) solar installer to fit your brand new solar panel system.
Complete one of our simple online forms with details of the work you need and we'll put you in contact with up to 3 local solar installers who will each provide a free quote. Once you've received the quotes, you can compare them and choose the best one for you and your home.
---
 
Get Free Solar Panel Quotes:        Get quotes and compare prices.
 
---