MCS launches new competency consultation
A new consultation has been launched by the Microgeneration Certification Scheme (MCS) . It has now decided to consult on requirements for certification in order to provide better clarification and has just extended the deadline for submissions.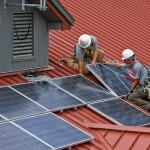 The consultation is aimed at clarification for companies already covered as well as those seeking to join. The MCS has identified that one of the largest challenges installers face is how to translate company specific requirements into a set of competency criteria for employees. The overall objective is to make it easier for relevant parties to understand what exactly is required if they wish to be covered.
Clear criteria is also being developed for existing MCS members including employees who do not otherwise have existing individual qualifications. The key aim is to ensure that there is a level playing field for everyone joining the scheme and the consultation essentially consists of asking relevant parties for their views on the two existing routes into the scheme. These routes currently consist of either assessment at an assessment centre or college or the 'experienced worker route' which examines competency within the job itself and consists of on-site assessments.
The MCS provides certification for a number  of microgeneration technologies, particularly Solar PV. It is also linked to a number of financial incentive schemes such as the government's Feed-in Tariff Scheme (FiTS).
The closing date for the consultation has now been set for 23rd July 2012. Consultation documents for those who wish to make submissions are available on the MCS website.