DECC identifies trends in domestic solar PV installations
The Department of Energy and Climate Change (DECC) has identified trends in the installation of domestic solar PV as part of its research into what drives homeowners to adopt the technology.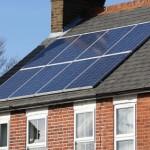 Households who have already had solar panels installed were analysed for the report called 'Identifying trends in the deployment of domestic solar PV under the Feed-in Tariff scheme.' The research involved the analysis of the average gas and electricity consumption of Lower Layer Super Output Areas (LSOA) in England and Wales.
When it came to determining how energy usage impacted the decision to install solar panels, unsurprisingly the results revealed that households with high electricity consumption are more inclined to install a solar PV system compared to households with a lower consumption of electricity. Where the level of deprivation decreases the number of solar installations increases.
Various social characteristics were highlighted as a driving factor. The research revealed that there is a correlation in respect of levels of employment, education and income deprivation across LSOAs. With the exception of homeowners in the 65-70 age range, the greater the average age of the LSOA, the higher the proportion of homes with solar PV panels. In areas where the average age is forty plus there's a greater density of solar panels installs, compared to areas where the average age is under forty.
Location was another contributing factor. Compared to urban areas, LSOA groups in more rural areas – which tend to have lower gas coverage -feature higher rates of installation.