Comparison site MoneySupermarket invests in solar
They are known for helping customers to save money on their household bills, but now price comparison website MoneySupermarket.com is looking to save money themselves by installing solar panels at the company's head office in Wales.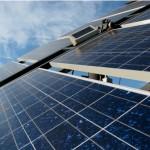 The Internet company is to reap the benefits of the rent-a-roof scheme, which sees the solar system installed for free under a solar power purchase agreement, but excludes them from making money via the Government's feed-in tariffs (FiTs). The £90,000 system has been installed by iGen Energy Ltd, who will own and maintain the solar PV system, allowing them to generate an income via FiTs.
The 48kWp array features 208 solar panels which, aside from helping the price comparison website to reduce their energy bills, will save them more than 21,000 kg of emissions every year.
"We wanted to show our environmental credentials in a way that not only underlines our commitment to reducing the amount of CO2 we produce as a business, but we also wanted to have a visual reminder in place so our staff and visitors see our green activity in action," explained MoneySupermarket's HR director Alan Cairns.
In the year to December 31 2011 the group posted sales of £181 million.