August sets new record for monthly solar installations in the UK
A record number of homeowners had solar PV panels installed last month according to energy regulator Ofgem, smashing the previous highest monthly number.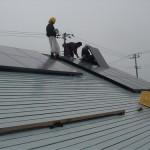 August was the third consecutive month of record-breaking solar installations in the country, but the new record more than doubled the previous highest number of installations in July.
June did take the record with 1,397 installations in the UK, only to be bettered the following month with 1,736 fittings.
But August dwarfed both results, posting a monthly high of 3,606 solar photovoltaic panels.
In fact, the solar industry has boomed massively since the launch of the highly regarded Feed-in Tariff scheme that pays homeowners for the electricity created by on-site renewable sources like solar PV panels, and an extra fee for any electricity produced that isn't used by the home.
Since the launch of the Feed-in Tariff, 8,037 homes have opted to have solar PV panels fitted to their homes.
The improved figures were released as part of Ofgem's Feed-in Tariff Statistical Report. Ofgem updates the uptake of microgeneration technologies that are eligible to qualify for the Feed-in Tariff.
Since the launch of the incentive scheme, just 373 wind devices, 39 hydro systems and two micro-combined head and power (Micro-CHP) installations have been fitted.
To find out how much you could save by installing solar PV panels, try Solar Guide's Solar PV Feed-in Tariff Calculator by clicking here.