Alcatraz goes green installing solar panels to capture the sun's rays
Alcatraz, the infamous San Francisco penitentiary which once held some of America's most notorious criminals capture has installed a solar array which will power lights and appliances and provide up to 60% of its electricity needs.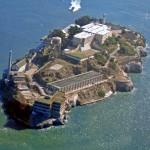 Known as 'The Rock' the prison will be harnessing the power of the sun with a 1,360 solar panel system. According to the US National Renewable Energy Laboratory the solar panels will generate around 400,000 kilowatt hours of electricity every year. For years Alcatraz has relied on two aging diesel generators which cost $700,000 every year to fuel and maintain.
Thanks to the solar panels and other energy efficiency measures put in place, the prison will be able to cut its carbon emissions by around 337,000 kilograms annually. The solar PV installation was funded by the National Park Service in partnership with the National Renewable Energy Laboratory and was aided by a $3.6 million cash injection from the American Reinvestment and Recovery Act.
The installation has come about as a result of President Obama's stimulus program which aims to bring clean energy to America's historic landmarks and national parks. However the project was subjected to a delay when a local historic landmark action group protested on the visibility of the solar panels, which were originally due to to be install on the New Industries Building roof and the cell house block. The cell house block now hosts the entire system.
The Golden Gate National Recreational Area oversees Alcatraz. Spokesman Michael Feinstein said:
"The long-term goal is to create a fully sustainable island that uses 100 percent renewable energy. There are about 1 million visitors to Alcatraz a year, and we want to make it a show place for green energy."