Government Lodges Appeal Against "Illegal" Solar Ruling
As expected, the Government has launched an appeal against a High Court decision which ruled solar PV subsidy cuts were "illegal."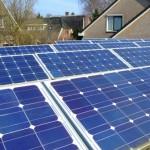 Since a judge ruled on 21 December that the way in which the Government went about its proposals to cut the feed-in tariffs (FiTs) the Department of Energy and Climate Change (DECC) was adamant that they would appeal. Yesterday that appeal was lodged, with the Government continuing to claim that cuts to the solar PV subsidy scheme are essential to encourage more people to install the renewable energy technology and maintain security in the industry long term.
"We have lodged grounds of appeal with the Court of Appeal," said a DECC spokesperson. "We hope that permission will be granted for an appeal and that we can secure a hearing as soon as possible so that we can provide clarity for consumers and industry on the way forward following the consultation."
The Government believes that the judge's ruling was premature, given that a final decision over the cuts had not been made and nothing was set in stone until DECC had undertaken a complete analysis of the feedback received during the consultation period. DECC argues that the 12 December deadline is necessary, and claims that reducing the tariff payments is the only way to ensure as many people as possible have the opportunity to benefit from small scale low carbon generation technologies and the income generated from the FiT scheme. Without the cuts, DECC claims the solar industry in the UK will not have longevity because the budget for the scheme would be considerably reduced, draining the funds for future solar PV generation.
Results of the first stage of the feed-in tariff consultation – which closed on 23 December – won't be published until the end of the month at the earliest. It's been reported that around 3,000 responses have been received.